Outdoor Living Services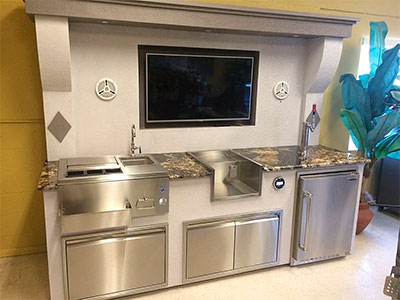 We at Aluminum Outdoor Kitchens are a premier wholesale only company dealing in all types of aluminum framework for outdoor kitchen islands and other similar outdoor features. Our company is unique in that it provides excellent solutions and works closely with our dealers to help them grow their business. While we are based in Central Florida, we ship products throughout the State.

We are focused on ensuring that our product quality meets the needs of our clients. In addition to fabricating aluminum features and cladding them with Hardibacker Board, Aluminum Outdoor Kitchens also offers excellent outdoor feature design and layout services.

If you are looking for a company that would be able to provide wholesale outdoor feature products and design services to support your own business, we are the company to call. The various specialized services we offer include:


3D Design Services
As a dealer of our company, you have easy access to our excellent design team. When you need any fire tables, fire pits, outdoor kitchens, fireplaces etc. designed and planned, you can collaborate with this team to get the kind of solutions you need. We provide the best 3D drawings which you can use to show your clients.

Use of the latest 3D software helps ensure that you get a very clear idea about exactly how the various appliances and accessories would look in the new space. You get accurate views and plans that you can show your clients. This goes a long way in ensuring you are able to provide your clients' with outstanding services. Read More About 3D Design Services »


Outdoor Kitchen Layouts
If you are supplying outdoor kitchen islands and counters to your clients, you need to make sure that the layout and plans are perfect. After all, your clients would have very specific requirements for their own projects. We are the experts that can provide you with excellent outdoor kitchen layouts for your wholesale requirements.

The 3D drawings that we provide would give you a very accurate idea about how the outdoor kitchens will look once they have been installed. Since we don't just provide design solutions but also fabricate the actual kitchen counters and islands, our team has deep knowledge about what is involved in the design phase. Read More About Outdoor Kitchen Layouts »


Outdoor Fireplaces
Outdoor fireplaces are a definite value-add to a home and these features need to be designed and planned with care and attention to detail. In addition, the right kind of materials needed to be used to ensure that they do not deteriorate when exposed to the elements. This is why we make use of excellent aluminum framework while designing and planning outdoor fireplaces.

We work very closely with our dealers to provide them the kinds of outdoor fireplaces the need. These fireplaces are typically purchased by contractors, landscape designers, landscape architects as well as interior designers on their projects. The fireplaces would be customized to your requirements. The Hardibacker board that is affixed on the exterior can be clad with materials such as stone, tile, stucco and Dryvit too. Read More About Outdoor Fireplaces »


Fire Pits
Many homeowners like to get a fire pit installed on their property. As a dealer of our products, we can help you with the design and fabrication of various fire pits. We are a leading company in this industry, and provide excellent design and layout solutions for fire pits and other fire features.

The solutions would be customized to your specific requirements. Once you become a dealer of our products, you have access to our expert design team. They with ensure that you get the kind of fire pits you want designed to supply to your clients. Our products are extremely hardy and are able to withstand the elements very well. Read More About Fire Pits »


Fire Tables
Aside from fireplaces and fire pits, many property owners like the idea of having fire tables on the property. These yard features can be installed even in compact spaces and are ideal for placement in poolscapes, patios and decks. If you need fire tables designed and installed, we can provide you top-notch, customized solutions that will meet the needs of your clients.

The fire table's framework will be fabricated from aluminum and would have Hardibacker Board. This board is versatile and can be clad with a range of materials including tiling, natural stone, Dryvit and stucco etc. These fire tables are extremely resilient, look great and are very durable too. Read More About Fire Tables »


Islands & Bars
Many landscape designers, architects and builders need islands and bars designed and installed as part of the projects they handle for clients. As a company that provides excellent outdoor feature layout and fabrication services, we can provide you with high grade islands and bars to cater to these clients. These features will be designed and planned to meet your specific requirements and the needs of your clients' projects.

Once you become our dealer you have access to our expert design team and they will help you layout and design the bars and kitchen islands you need. The 3D renderings we provide help you get a very clear idea of what the features would look like once they have been installed. Read More About Islands & Bars »


Granite Tops
Granite is an extremely resilient material that is used for outdoor kitchen countertops. In addition to fabricating the actual kitchen island, we can also provide excellent granite tops for your next project. Since we cater to business clients, you are assured of the most competitive pricing for all your wholesale orders. Most of our frame clients now also ask for granite tops for these features.

There are a number of different granite options to choose from. This gives you the opportunity to order features that will be unique and stunning in every way. This helps you provide a wide range of options to your own clients. Since we tailor our solutions, you can rest assured that you will get the types of granite tops you need. Read More About Granite Tops »

We customize our solutions to meet the needs of your project and ensure that you get the best products within your client's budget. For any more information about our services, feel free to contact Aluminum Outdoor Kitchens at 352-212-1615.