Outdoor Fireplaces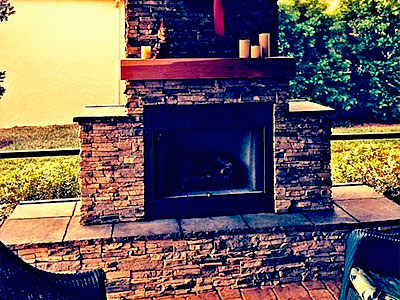 If you cater to residential customers and need outdoor fireplaces for your projects on a regular basis, you need a reliable and experienced partner who would be able to provide you wholesale outdoor fireplaces within the stipulated timeframe. You need to ensure that the quality that the company provides would be in line with the high quality standards that you set for yourself.

We at Aluminum Outdoor Kitchens are a premier wholesale company dealing in all types of aluminum framework for outdoor kitchen islands and other similar outdoor features. Our company is unique in that it provides excellent solutions and works closely with landscape designers and contractors to help them grow their business. While we are based in Central Florida, we ship products throughout the State.


Customized Outdoor Fireplaces
Our products are of extremely high quality and are customized to client requirements. In addition to fabricating aluminum features and cladding them with Hardibacker Board, we also offer excellent outdoor features design and layout services. Once you become our dealer, you have full access to our design functions. The team will work very closely with you to understand exactly how you need your outdoor fireplaces to be designed and laid out.


Fireplace Plans and Layouts
Since there are a number of different materials on the market today, you need to be assured that the outdoor fireplace framework would be able to support the weight of these cladding materials. This is exactly why we use Hardibacker Board in our products. This material is extremely versatile and durable. It can withstand the elements and last for a number of years without deteriorating. The fireplaces can be clad with materials such as natural stone, stucco, tile and veneers of different types.

This means, regardless of the types of fireplaces you want, you are assured of the best solutions at the most cost-effective pricing. As a dealer, you have full access to the capabilities of our design team. Their creativity and knowledge help ensure that your fireplaces are unique in design, high in quality and fit for your client needs.


Fireplace 3D Design
If you are looking for a company that would be able to provide wholesale outdoor products and design services to support your own business, we are the company to call. We provide excellent 3D fireplace design services and the renderings that we provide help give you a very clear idea of what the fireplaces would look like once they have been installed on your client's property.


Aluminum Fireplace Framework Fabrications
This visual impact goes a long way in ensuring that your clients are extremely happy with the solutions you provide. Offering these types of professional services to clients helps you create a very strong client base and gain returning customers. We customize our solutions to meet your needs and ensure that you get the best products within your client's budget.

We are here to help with comprehensive fireplace design, layout and fabricating services that meet your customer demands. For any more information about our services, feel free to contact Aluminum Outdoor Kitchens at 352-212-1615.