Islands & Bars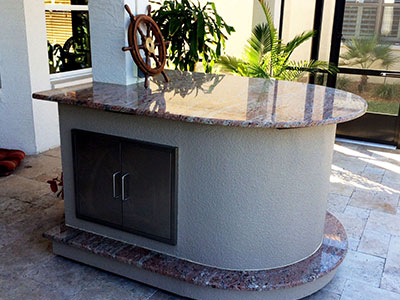 Outdoor kitchens need to be planned with care and installed perfectly using high-quality outdoor grade materials. There are a number of different types of features that can be installed in an outdoor kitchen and islands and bars are very popular choices. If your clients require outdoor kitchen islands or bar installations, and you are looking for design and fabrication experts, you are in the right place.


Wholesale Kitchen Islands and Bars
We at Aluminum Outdoor Kitchens are a premier wholesale only company dealing in all types of aluminum framework for outdoor kitchen islands and other similar outdoor features. Our company is unique in that it provides excellent solutions and works closely with businesses to help them expand their reach. While we are based in Central Florida, we ship products throughout the State.

Once you become one of our dealers, you get full access to our design expertise. The design team a skilled and creative and works very closely with you to make sure that the kitchen bars and islands that you need are fabricated and designed to meet your client requirements. We understand that your clients will have very specific needs and the layout of the available space on their properties would be different as well.


Islands and Bars Designs
We use the latest 3D drawing software which helps give you a very vivid view of what the outdoor spaces would look like once the new islands and bars have been installed. When you present these 3D renderings do your client, it helps create a very professional image about your company and the manner in which you function.

We are very consistent and meticulous in our approach which means that you are always able to provide your clients with top-notch services in a consistent manner as well. Regardless of the number of kitchen islands and bars you need, we are here to help you design and fulfill them.

The use of high grade aluminum framework and resilient Hardibacker Board ensures you get the best islands and bar features for your projects. We are focused on ensuring that our product quality meets your needs. As mentioned, in addition to fabricating aluminum features and cladding them with Hardibacker Board, we also offer custom outdoor features design and layout services. Our wholesale outdoor products supply services are built to support your business and help you expand it.


Outdoor Bars and Islands Fabrications
We recognize that creating an outstanding experience for your clients is a lot about providing excellent design solutions that are practical and functional, and being able to deliver those products on time once client approval has been received. We never falter on our deliverables which means you never falter on yours. Our reliability and customized solutions go a long way in helping you create a very strong base in the region you operate in.

We supply products to our dealers across Florida and you are assured of timely and high grade solutions at all times. We customize our solutions to meet your needs and ensure that you get the best products within your client's budget.

For any more information about our services, feel free to contact Aluminum Outdoor Kitchens at 352-212-1615.