Fire Tables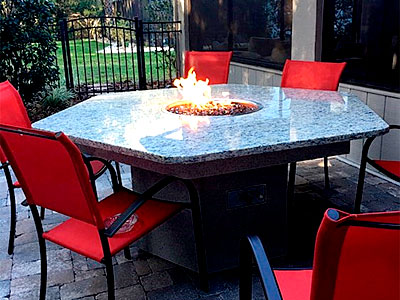 Many homeowners in Florida like to get outdoor fire features installed on their property. Aside from fireplaces and fire pits, fire tables are among the widely requested features. These elegant structures can be designed in any size and shape and can be installed in areas such as patios, decks, poolscapes and other areas of the landscape.

If you get regular requests for fire tables installations, you need a reliable company that would be able to provide you with customized fire table designs and plans and timely delivery of the final fabricated products. We at Aluminum Outdoor Kitchens are a premier wholesale only company dealing in all types of aluminum framework for outdoor kitchen islands and other similar outdoor features.

Our company is unique in that it provides excellent solutions and works closely with landscape designers and contractors to help them grow their business. While we are based in Central Florida, we ship products throughout the State. Over the years we have built a very strong base in this industry and work closely with companies of varying sizes to help them provide their own clients with custom fire table's solutions.


Wholesale Fire Table Plans
High quality products, excellent workmanship, outstanding customer support and creative design services or go a long way in ensuring that you get the type of fire tables you want. We use resilient Hardibacker Board in the features. This board is installed on top of aluminum framework based on the fire table designs approved by you.

Hardibacker Board is extremely resilient and sturdy and can support the weight of tiling, stucco, natural stone or brick veneer etc. This means, regardless of the kind of fire table plans and layouts your clients need, our solutions are the perfect fit for them. Our excellent services go on long way in ensuring that you get wholesale outdoor products and design services to support your own business.

Once you become a dealer of our company, you have a full access to our skilled and experienced designed team. The designer assigned to help with your project will ensure that every aspect of the wholesale fire tables order that you have placed with us is completed to your requirement.


Fire Tables 3D Design Services
Your clients would always want to have a clear idea about how their fire tables would look once they have been installed on their properties. This is why we provide excellent 3D design services and make sure that your fire table plans show exactly how these features would fit in the available spaces.

We have the capacity, resources and experience to provide you excellent fire tables design and fabrication services. Our company can handle wholesale orders of any quantity and can ship them to your location across Florida.


High Grade Wholesale Fire Table Fabrications
Our expertise in this space helps ensure that you are able to provide high quality fire tables to your clients, at very cost-effective pricing. Our reliability and high grade solutions are aspects that you can always rely on. We customize our solutions to meet your needs and ensure that you get the best products within your client's budget.

For any more information about our fire tables and other outdoor feature services, feel free to contact Aluminum Outdoor Kitchens at 352-212-1615.