Fire Pits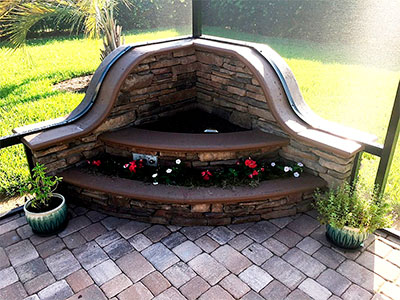 Fire pits are a popular feature on residential properties and you need to ensure that your company is able to provide these solutions to clients that want these on their property. Sometimes, your clients may require fire pit installations on an urgent basis for their landscape upgrade projects. While these are simplistic features, they need to be built using sturdy materials that would be able to endure the elements.

We at Aluminum Outdoor Kitchens are a premier wholesale only company dealing in all types of aluminum framework for outdoor fire pits and other similar outdoor features. Our company is unique in that it provides excellent solutions and works closely with suppliers to help them grow their business. While we are based in Central Florida, we ship products throughout the state.


Fire Pit Design and Layout
When you become our dealer and order fire pits from us, you can rest assured that our design team will work very closely with you to make sure that you get the kind of fireplaces you need to provide your clients. We can design all types of outdoor fire pits for you and care will be taken to ensure that the design and styling meet your specific requirements.

We are focused on ensuring that our fire pit quality meets the needs of our clients. Aside from fabricating aluminum features and cladding them with Hardibacker Board, we also offer excellent outdoor features design and layout services. The Hardibacker Board is extremely versatile and your clients can install any type of cladding materials such as natural stone, titles, stucco etc. on the exterior of the fire pits.


3D Design Fire Pit Designs
We use 3D design software for all the renderings and this is a great way to get an accurate idea of what the fire pits will look like once they have been installed. When you are able to give your clients the option to view these plans, it creates a very good impression on them. As a leading company in this space we have the resources, skills and knowledge to provide our clients with customized solutions that will help them forward their business.


Wholesale Fire Pit Services
We understand that each of our clients will have very specific requirements for their own landscape project. This is why we go the extra mile to tailor our solutions and ensure that our design team focuses on those needs. Once the designs have been approved by you, our fabricators will complete the aluminum framework within the shortest possible time. The best quality materials are used in the work which ensures a hardiness of the feature even in changing weather conditions.

The completed product will be shipped to your location in a timely manner. The professionalism with which we handle our job helps ensure that you are able to maintain very high quality standards in your own business. If you are looking for a company that would be able to provide wholesale outdoor products and design services to support your own business, we are the company to call.

For any more information about our fire pits and other services, feel free to contact Aluminum Outdoor Kitchens at 352-212-1615.